Have you read… Daredevil #192?
Shedding light on lesser known comic book stories...

If the latest season of Netflix's Daredevil show inspires you to read any of old Hornhead's comic books, make sure you check out Frank Miller's excellent run from issues 168-191. They are pretty much the basis for what you'll see on screen during season two – Elektra, the Hand, Daredevil meeting (and clashing with) the Punisher. It's all there, and collected in a nice omnibus or three handy trade paperbacks.
That's fine, but once you're done and are thirsty for more of the character – what next? You could skip ahead to the next well regarded run, also by Frank Miller, in issues 226-233 ("Born Again"); or maybe you try something more modern, like the Brian Michael Bendis run from the early 2000's or even the recent Mark Waid era. They're all great stories, and you should definitely check them out, but how about going off the beaten track by trying something different?
There are lots of older comics, by every publisher, that are no longer in print. Worse still, there are a raft of stories that have never been collected at all. Frustratingly, hardly anything at all from Daredevil in the 1980's is available to physically buy. This is true of the issues that sit wedged between Miller's two seminal runs – #192-225. They are issues that this long time Daredevil fan has never read, and more than likely you haven't either. In the first in a series, let's shine a light on some of the lesser known stories from Daredevil and his other superhero friends.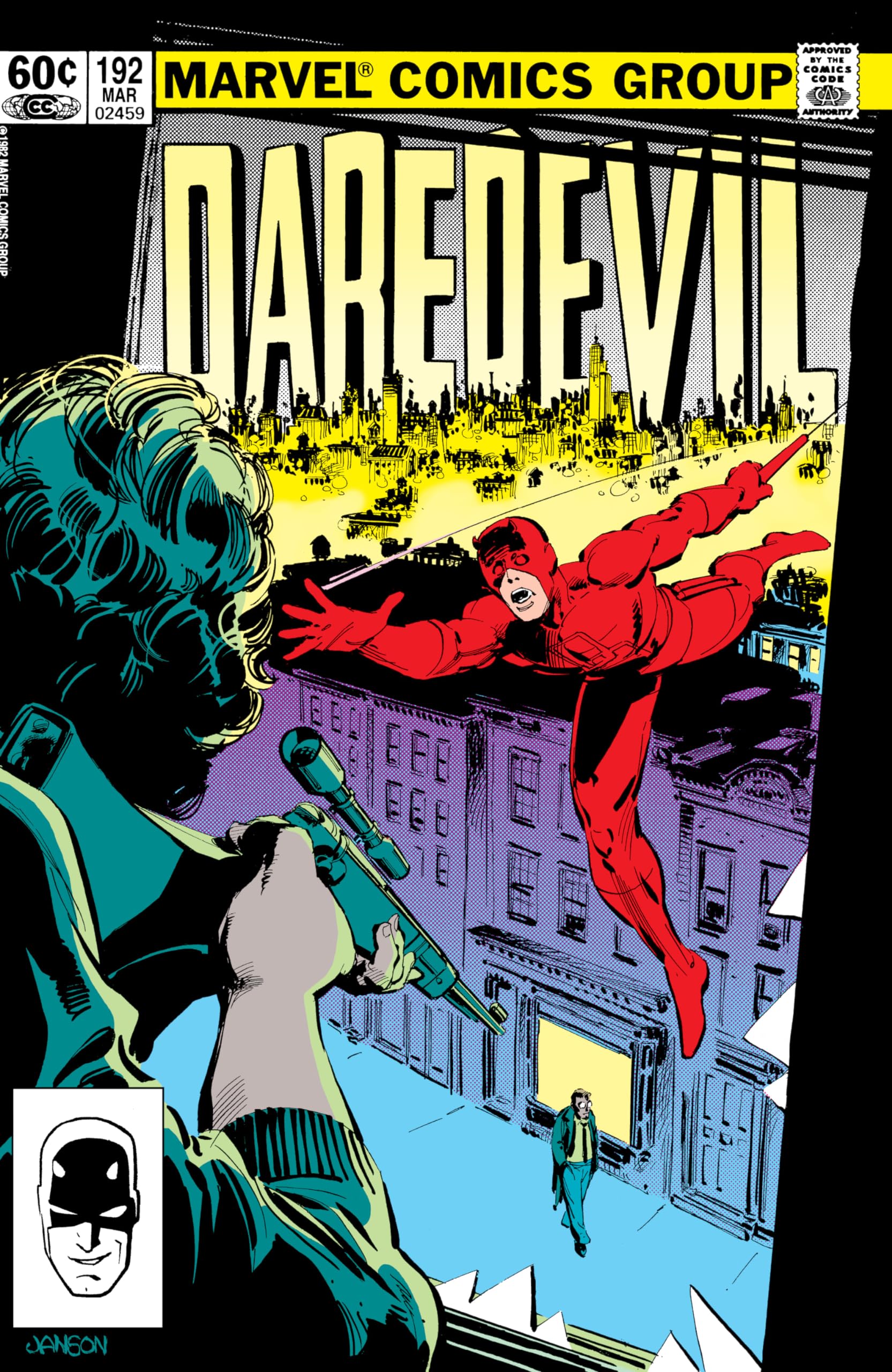 Daredevil #192 (March 1983)
Written by: Alan Brennert, Pencils by: Klaus Janson
Reporter Ben Urich discovers his mentor, Jimmy Hughes, was being bought off by the Mafia. At the same time, he and his wife Doris look to move into their dream house, available on an incredible deal. All is not how it seems, however. Wilson Fisk – the Kingpin – is working behind the scenes, hoping to use the house purchase to manipulate Urich at a later date.
Online opinion would have you believe that everything between the Miller eras is forgettable fluff. This demonstrates otherwise. Ok, so it's not a masterpiece of comic book storytelling, but it's a good, solid read and to be honest it doesn't feel all that different to what Frank Miller was himself doing. It has nice nods back to that last run – where Daredevil took the opportunity to bribe the Kingpin when his wife Vanessa was found alive, as well when Urich stopped investigating Mayor-candidate Randolph Cherryh to protect his own life. Writer Alan Brennert (who would later go on to win an Emmy for his work on TV's L.A. Law) asks an interesting question: do we all have a price, and does that necessarily make us a bad person?
Using actions taken in the preceding issues is a savvy move by Brennert, making Daredevil's world sophisticated and that more real, as the continuity demonstrates that actions have consequences and what characters do in one issue will almost certainly carry on over into the next. As readers we are use to this serialised nature within comics now, but at the turn of the 1980's this was still revolutionary. Readers at the time must have breathed a sign of relief that, following Frank Miller's department, the Daredevil comic kept true to its new found maturity and didn't simply revert to its previous type, where the reset button was pressed at the end of every issue.
There is also nice continuity in the artwork too, as pencil-duty is taken by Klaus Janson – the man who previously brought Miller's stories to life. The images he produced look great, and perhaps lessened the impact of losing Miller from the script. It's a shame that this (and a few issues leading up to issue #200) mark the end of his time on the comic, and actually the only story written by Alan Brennert.
Far from a dangerous dip in quality then, rarely-read Daredevil #192 is well worth your time tracking down and reading. It continues the story Frank Miller started (and Netflix have just broadcast) and begins to lay the groundwork for the next phase in the life of the Man Without Fear. There is a point to it – it asks an important question, in a well told story involving adults, crime and the media. The fact it happens to feature a superhero too…? Well, Miller would have been proud.