Inspiring tattoos based on self-harm
Check out these incredible tattoos inspired by self-harm struggles.

A lot of people with a past of self-harming want something to look at whenever they feel like doing it again, like a tattoo, that reminds them why they should keep strong. Here are some of the most incredibly beautiful tattoos that victims of self-harm have gotten on their arms as a strength reminder to themselves.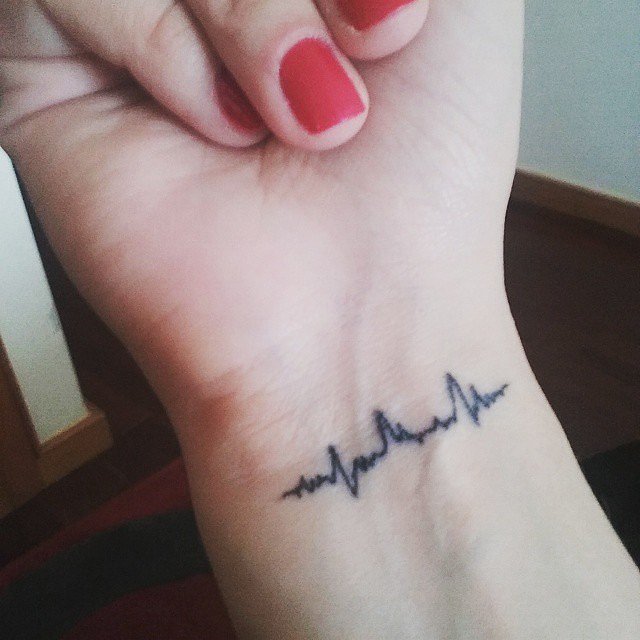 A lot of people seem to be getting a heartbeat tattoo. The significant meaning behind this tattoo is that some people have injured themselves to feel alive, and all you have to do is look down at your heartbeat tattoo to remember that you are alive and you are living. This is also a beautiful tattoo that looks nice on your arm, so not only do you have inspiration right there on your skin, but you also have something nice to look at.
This tattoo is probably one of the most popular tattoos for people with a past of self-injury. It is a semicolon tattoo on the side of your wrist. It simply means that a semicolon is where the author could have finished the sentence and didn't – it means that your story isn't over. It's beautiful and simple with an inspiring meaning.
This tattoo doesn't necessarily have to be on the topic of self-harm, but many people are getting this tattoo now. Demi Lovato – a 23-year-old singer – has a tattoo of birds going all down her arm, which is significant to self-harm as she has a part experience of it. Birds are usually a representation of freedom because they fly, and flying is seen as being free. By getting this tattoo you are inking a constant reminder on your body that you are free from all of the struggles you have been through, including hurting yourself.
This photo is one that hits you when you see it. You can clearly see on the left arm is where all the scars are and then it says "past", and then on the right arm it says "future" with no scars whatsoever. This is clearly two beautiful tattoos to get because not only do they look nice they have a huge meaning that you would see every time you look at your arm. If you don't have scars or you have them elsewhere it would be difficult to explain the reasoning behind your tattoo, but as long as you know it doesn't really matter. These tattoos are for you to see, nobody else.
This is quite a simple tattoo. "Stay strong" is a cliche thing to say but it's very true, all you need to get through something emotionally difficult is strength. You can get this tattoo anywhere, so if you have scars on your legs or stomach you could get this tattoo on the same place as your scars. However, I think the most significant place to get this tattoo is on your arm because then you will always see the tattoo no matter what, the more hidden your tattoos are the more difficult it is to see them – they need to be seen to inspire you.
Another simple yet effective tattoo saying "love yourself". Selena Gomez has a similar tattoo on her rib, saying "love yourself first" in Arabic. The reason people get this tattoo is that you should always love yourself no matter what, it's one of the main lessons you need to learn in life. As long as you love who you are and you love your body, you don't need anything else – but you have got to love and accept yourself.
This person (in the photo) obviously got the words "be kind to yourself" on her arm, over her self-harm scars. The importance of this is that you have to be kind to yourself no matter what, and self-harming is not the way to do that. You are being mean to yourself by creating yourself so much pain, and that's not the way to have a good, healthy relationship with yourself. This tattoo is clearly a beautifully inspiring one, and I think it's a great idea for a tattoo.
If you have self-harm scars from the past, I'd recommend one of these tattoos. Don't get a tattoo to cover up your scars, you should see them as strength not weakness, but get a tattoo to inspire you every time you look at them. If you see your scars as shameful, maybe a tattoo can make you feel better about them. Or even if you just need to re-assure yourself not to do it again, one tiny little tattoo on your body can make a difference to your entire life.